Report by Pete Davis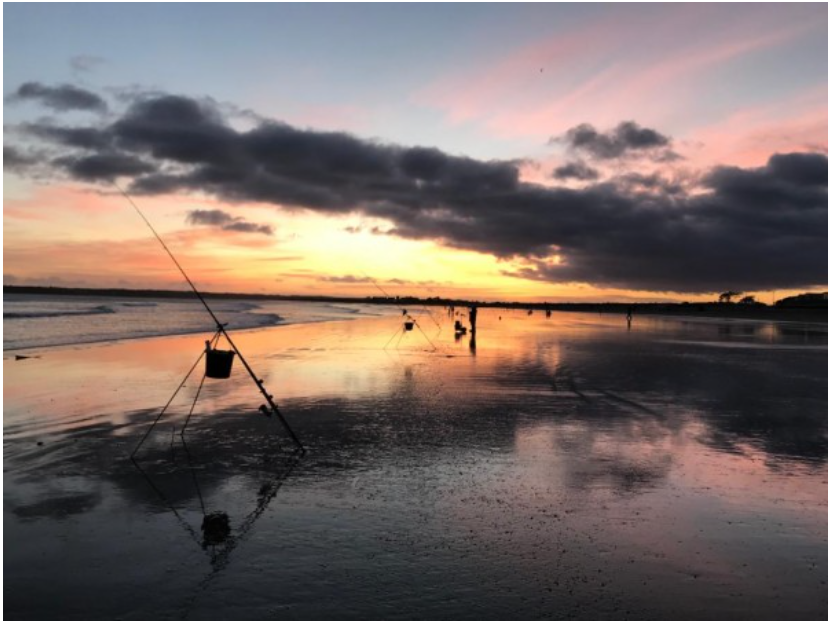 Sea-Angling-Ireland SAC hosted the annual All Ireland Open Cod Championships on Youghal beach on Saturday last. This event kindly sponsored once again by Henrys Tackle, http://www.henrystackleshop.com. The Cod Open is one of the most looked forward to Open competitions on the calendar, it gives every angler the shot at winning €500 which is awarded (usually!) to the angler landing the largest cod. You have the choice of hunting down that biggie or fishing standard match tactics to compete for the match prizes on top of that. There is a junior section also within this and all anglers, young or old are eligible to win the €500 main prize. With a pool for the longest Flatfish, Ray and Roundfish, there's something for everyone to go target and be in with a realistic shot of winning!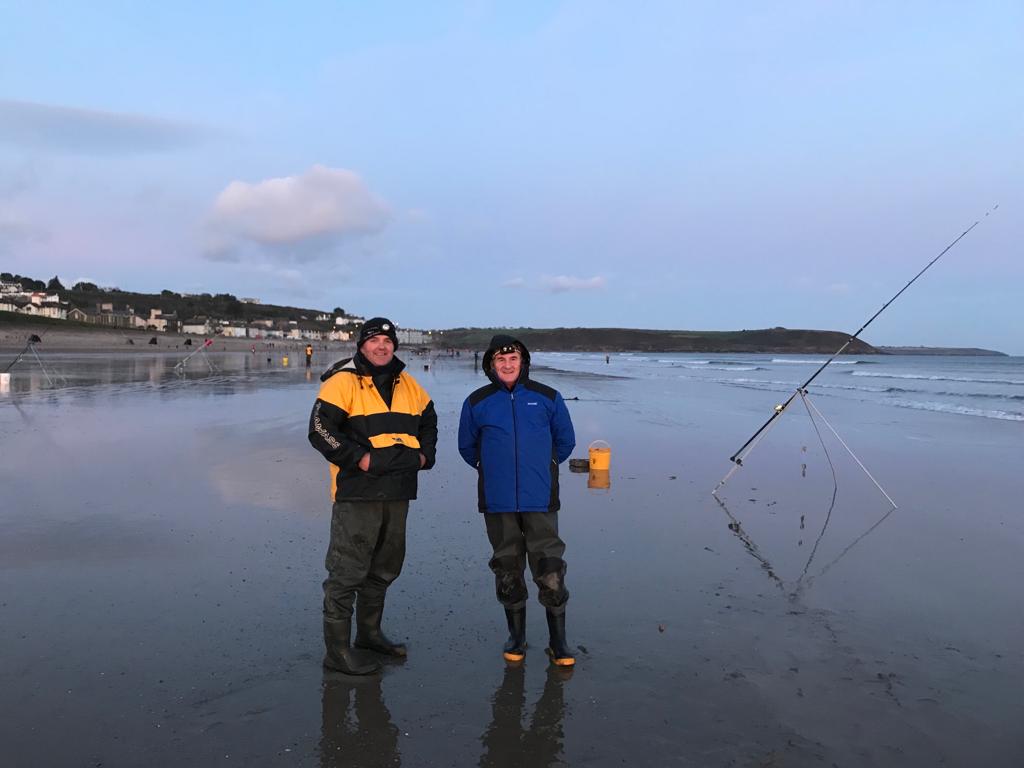 54 anglers minus 1 or two cancellations, split into 3 zones made their way onto the beach to be greeted by calm seas and clear water. Like in my last report from the Munsters 2 weeks ago, unfortunately we are trapped in a cycle this winter of rising tides into darkness at the weekends coming on the smallest of tides. Unseasonably good weather despite a fresh Northerly blow the evening before had left the sea crystal clear. This as any regular beach angler will know is less than ideal but unfortunately there's not a thing that can be done about it. Open fixtures have to be submitted many months in advance, as we all know, there's no accounting for the weather and nothing that can be done about the tide book either. Still, always a chance and there was a degree of excitement around the beach as 4.30pm arrived and lines were cast out to the backdrop of a stunning winter sunset in a bitter northerly breeze.
The fishing in general was difficult. There were fish to be had by anglers willing to experiment with different ranges and smaller baits. Fishing the end peg with Liam, my son, we managed 8 species between us but unfortunately not the elusive Cod. We had a feeling in advance of the competition that given conditions and given 40 odd anglers hadn't seen a cod 2 weeks prior in the Munsters that there was a distinct possibility there wouldn't be one caught. Contingency plan was that in that event, the €500 top prize for the largest cod would go to the captor of the largest Ray on the night and so it came to pass. After 5 hours, lines up was called and it was clear that the fishing had been hard.
The €500 big fish prize went to Kevin Hayden for an 81cm Ray. Congrats to Kevin, that's a grand fish on any day and all the better with a bundle of €50 notes attached to it! On the match front, results were as follows:
Seniors:
David O'Sullivan had the highest score on the beach with 11 fish for 300 points from Zone C.
Pete Davis took Zone A with 8 fish for 260 points.
John Diamond in 2nd with 4 fish for 114pts and JP Molloy in 3rd with 4 fish for 104pts.
Joe Carley took Zone B with 6 fish for 152 points.
Jim O'Brien in 2nd with 2 fish for 98 points and Don O'Neill with 3 fish for 97 pts in 3rd.
Zone C, (excluding the overall winner David O'Sullivan) was won by Stephen O'Donovan with 9 fish for 237pts
Troy Francis in 2nd with 4 fish for 186pts and Marco De Kleer with 5 fish for 153pts in 3rd.
Liam Davis won the Junior section with 11 fish for 279pts with Kaitlin de Kleer in 2nd with 7 fish for 149 points.
Longest Ray (excluding Kevins overall big fish winner) went to Stephen O'Donovan. Liam Davis (jr) shared the longest roundfish prize with Jim O'Brien with them both having 43cm bass apiece. Josh Corbett won the longest flatfish pool. Whilst the fishing hadn't been great, the prize table had been substantial with around €1400 in total given out across the board.
I may well be accused of nepotism here (and they'd probably be right !) but the story of the night however belonged to 14 year old Liam Davis who absolutely fished his socks off on peg 2. He put together a fine card on the night of 11 fish by mixing things up, working the area in front of him methodically and continually picking off fish when all around him others struggled. His score, to put it into context, amidst a high class field with many ex international match anglers was bested only by David O'Sullivan on the night, he would have been second on the beach overall fishing as a senior. There is nothing flukey about this, he has been quietly doing this all year, fishing junior sections at various club competitions and leaving many of us in his wake scratching our heads and he deserves great credit for this. Kaitlin de Kleer one of the other junior anglers up the other end of the beach managed the 4th highest numbers of fish caught on the night with 7 in what was another superb performance by one of the young guns, it's great to see it.
A massive thanks once again to Henry Lynam of Henry's Tackle in Ballybough in Dublin, http://www.henrystackleshop.com. Henry, without your support both of this event and the clubs regular competitions we would have struggled, its greatly appreciated. We would also like to thank Ken Forsyth for his kind donation of a voucher for the best junior. Thanks also to the usual crew on the SAI committee in particular John Diamond who does an enormous amount of the donkeywork behind the scenes at our opens and throughout the year and deserves great credit for that.
Sea-Angling-Ireland SAC is a club made up of members from around the country and fishes various areas over the year. We will be taking membership very shortly, if you are interested in joining SAI-SAC, please get in touch via our facebook page or via the forums on http://www.sea-angling-ireland.org, we would be delighted to hear from you. You may also sign up at http://www.saisac.org/about/