The 3rd Grauvell Irish Cod Championships  were held by Sea Angling Ireland SAC on the evening of Saturday, November 21st in Youghal. A total of 56 anglers travelled to take part in this event. It was a cold clear evening with anglers stretched along Youghal Beach.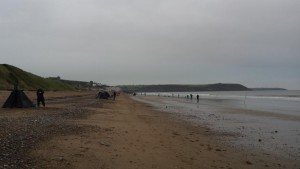 Fishing was slow as the tide dropped, and really only picked up as the tide turned in the darkness.
At 9pm lines were reeled in and it was back to The Walter Raleigh to tally the score cards.
There was a total of  165 fish caught by the anglers, the species caught were Cod, Whiting, Coalfish, Painted Ray, Dogfish, Conger, Rockling and Flounder.
The results were as follows:
Junior:
DAVID FARRELLY 6 Fish, 171 Points
Biggest Ray:
NOEL FOGARTY Painted Ray 87 cm
Biggest Round:
ZIGGY GLUCH Conger 53 cm
Biggest Flat:
PAUL ROCHE Flounder 35 cm
Match Scores:
 1, BRENDAN WALL – 18 – 494
57, CRISS O'SULLIVAN – 8 – 443
37, RICHARD GORMLEY – 9 – 415
27, DERICK HENDRICK – 12 – 363
35, NEILL BURELL – 6 – 265
39, SEAN og McSHANE – 7 – 216
Cod Champion 2015
The Grauvell Cod Champion for 2015 was Troy Francis with his 67 cm Cod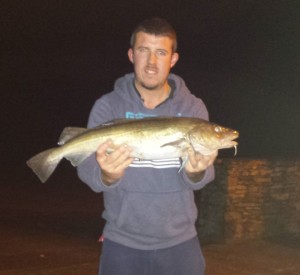 Sea Angling Ireland SAC would like to thank the Sponsors, Grauvell and Waterford Angling Centre. We would like to also thank the Walter Raleigh Hotel for their hospitality during the weekend.
We will be back in Youghal next year on December 3rd for the fourth Irish Cod Championships.